News
75 key projects in Laixi City, Shandong Province were signed intensively
A total of 75 projects were signed this time, with a total investment of 28.66 billion yuan
The concentrated signing and settlement of the project is a demonstration of the achievements of the Laixi Municipal Party Committee in overcoming difficulties
On March 13, 2023, the centralized signing ceremony of key industrial projects in the first quarter of 2023 in Laixi City was grandly held. At the event site, 75 key industrial projects including Hongchang Smart Energy Storage Equipment Manufacturing Industrial Park were officially signed and settled, with a total investment of 28.66 billion yuan.
It is reported that among the 75 projects, there are 21 contracted projects with an investment of more than 500 million yuan, 10 projects with an investment of more than 1 billion yuan, and 2 projects with an investment of more than 3 billion yuan. The contracted projects involve many emerging industries such as new energy automobile industry, general aviation industry, new material industry, green building industry, etc. It can be said that it covers a wide range and has a large amount of investment. It fights for the economy and promotes development in Laixi. Take the annual stock market to provide strong support.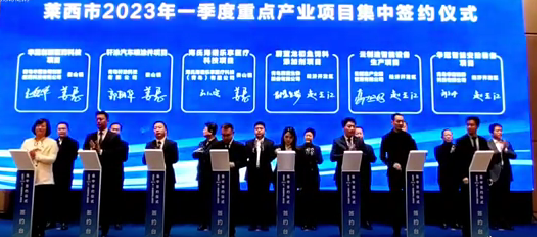 The concentrated signing and settlement of the project is a demonstration of the achievements of the Laixi Municipal Party Committee in overcoming difficulties. It is a vivid practice of sprinting the overall goal of the year with practical performance, and it will also set off a new round of upsurge in Laixi project construction. "The relevant person in charge of Laixi City Investment Promotion Office said so.
In the next step, Laixi will optimize services to promote development, actively connect with and give thoughtful guidance, respond to requests and do nothing, further deepen the reform of decentralization, regulation and service, continue to streamline the administrative approval process, and strive to create the best business environment that enterprises are satisfied with; will strengthen Guarantee the construction of the project, comprehensively solve the problems of land and funds that affect the progress of the project construction, improve the popularization of the mode of starting construction after acquiring the land, and strive to solve every practical difficulty and problem encountered in the process of project promotion; we will pay close attention to attracting strong industries and further Allocate strong overseas investment attraction forces, base on advantages, systematically plan the future of the industry, connect with interested enterprises one by one, and widely introduce potential projects. Editor / Zhao E