Hydroproject
Guangxi Water Resources Allocation Project Construction Land Approved
The main construction content of the project includes the construction of new water transmission lines, with a total length of 491.94km
The scope of water supply covers 5 cities and 17 counties including Nanning, Qinzhou, Beihai, Fangchenggang and Yulin, covering a population of about 20 million people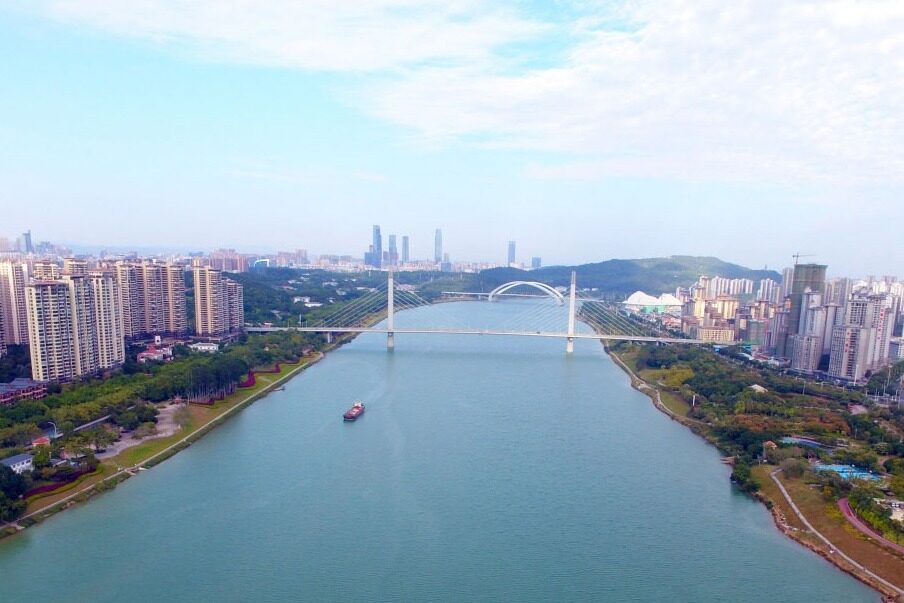 In order to create good conditions for the vigorous development of agricultural irrigation, the development of modern characteristic agriculture and the improvement of the water ecological environment, the Ministry of Natural Resources of Guangxi recently replied to the Department of Natural Resources of the Autonomous Region agreeing to pass the pre-examination of the construction land of the Guangxi Water Resources Allocation Project around the Beibu Gulf, and the approval of the general manager of the pre-examination of land use The area is 140.52 hectares, including 138.75 hectares of agricultural land, 0.94 hectares of construction land and 0.83 hectares of unused land.
The Guangxi Water Resources Allocation Project around the Beibu Gulf is included in the "The 14th Five-Year Plan for National Economic and Social Development of the People's Republic of China and the 2035 Long-term Goal Outline", which is an important construction of the main skeleton and main artery of the "outline" of the national water network One of the contents, the total investment of the project is 29.825 billion yuan. In order to speed up the pre-examination of land for project construction, the Natural Resources Department of the Autonomous Region provides front-line services, guides construction units to insist on economical and intensive use of land, opens a green channel for approval, and arranges special personnel to report to the Ministry of Natural Resources. The project construction land pre-examination was successfully approved, which laid the foundation for the project to approve the feasibility study report and carry out other preliminary work.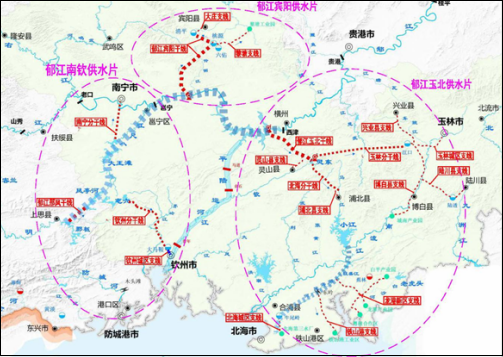 Schematic diagram of the general layout of the project
It is reported that the main construction content of the project includes the construction of a new water delivery project line with a total length of 491.94km, including 167.36km of water delivery tunnels and 306.87km of water delivery pipelines; the construction of 9 pump stations with a total installed capacity of 79.57MW and a total engineering design flow rate of 75.5 m³/s, the total project duration is 72 months. The project construction is divided into three water supply sections according to the water supply area, namely, Yujiang Jiangnanqin Water Supply Section, Yujiang Yubei Water Supply Section, and Yujiang Binyang Water Supply Section. , covering a population of approximately 20 million people.
After the project is completed, it can optimize the regional water resource allocation pattern, further ensure the safety of production and domestic water, maintain the ecological environment of rivers and lakes, and systematically solve the mismatch between the water resource carrying capacity of the cities around Beibu Gulf in Guangxi and the layout of economic development, and effectively alleviate the regional water shortage. The situation is of great significance to the construction of the water network of the Beibu Gulf Economic Zone in Guangxi and the promotion of high-quality development of the regional economy.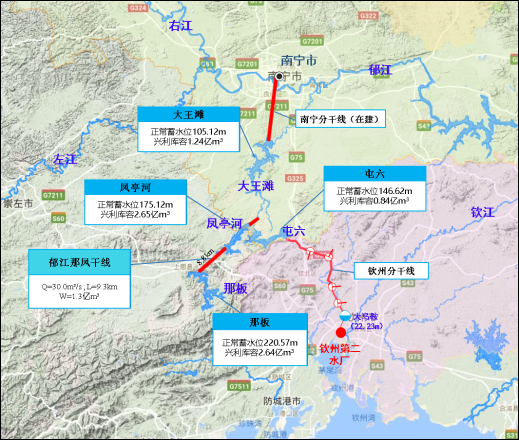 Overall layout of Yu Nanqin Water Supply Section
The Department of Natural Resources of the Autonomous Region stated that in the next step, we must seize the opportunity of the country's moderately advanced infrastructure construction and Guangxi's selection of the first batch of provincial-level water network pilot areas in the country. According to scientific configuration, overall network construction, overall arrangement, and phased implementation We will speed up the promotion of project construction land approval, go all out to do the work forward, grasp the starting point and balance point of the pilot project construction, and promote the early realization of the construction of the project.Editor/Ma Xue