Construction
Centralized commencement of 300 key projects in Qinhuangdao, Hebei
The total investment of this construction project is 86.533 billion yuan
31 projects signed on site with a total investment of 18.519 billion yuan
On March 26, 2023, the centralized commencement ceremony of key projects in the spring of 2023 in Qinhuangdao City, Hebei Province was held in the Kangtai Medical Electronic Medical Device Industrial Park. According to reports, this centralized construction involves a total of 300 projects, with a total investment of 86.533 billion yuan. It presents the characteristics of strong industrial development, weak infrastructure, and livelihood security.
Among these projects, there are 90 strategic emerging industry projects focusing on high-end equipment manufacturing, electronic information, and new materials, 13 modern service industry projects focusing on modern logistics industry, sports and tourism, 65 life and health industry projects focusing on biomedicine, health care, elderly care, and rehabilitation health care, 23 advantageous characteristic industry projects focusing on grain, oil, food processing, new building materials, and metal rolling There are 8 livelihood projects focusing on the allocation of educational resources, and 101 infrastructure projects focusing on urban road engineering and project supporting projects. Upon completion, the project will have a positive and far-reaching impact on Qinhuangdao's urban restructuring, transformation, livelihood benefits, and regional high-quality development.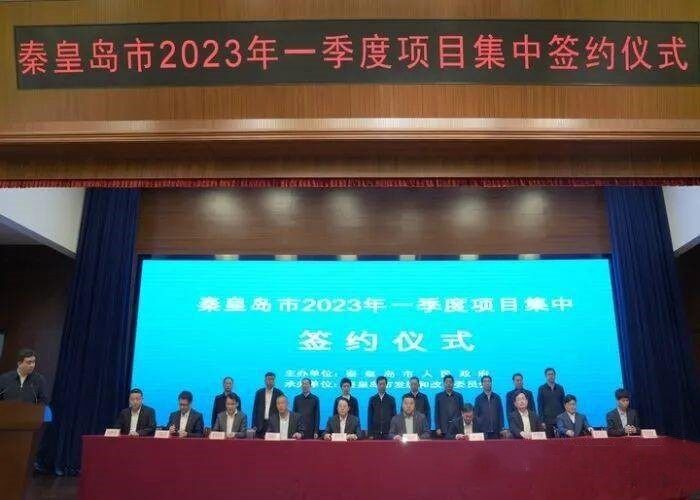 On the morning of March 26, 2023, Qinhuangdao City also held a centralized project signing activity for the first quarter of 2023.

The on-site signed projects include the expansion project of Beijing Jingneng Power Co., Ltd. in the second phase of Jingneng cogeneration with an investment of 6 billion yuan in the development zone, the deep processing project of special automotive glass with an investment of 860 million yuan by Hebei Yingxin Group in the development zone, and the project of Tianjin Shengna Intelligent Technology with an investment of 340 million yuan in the construction of industrial Internet of Things, intelligent detection, and green wheel finishing production lines in the development zone Tianjin Nabaichuan invested 120 million yuan in the construction of rehabilitation aids and medical device testing equipment manufacturing projects in the development zone, involving life and health, high-end equipment manufacturing, automotive components, grain, oil and food processing, new energy, port logistics, and other industries.
In the next step, Qinhuangdao City will strengthen docking and communication, provide excellent services, and create an excellent environment, fully promoting the early implementation of signed projects, the early commencement of landing projects, the early production of starting projects, and the early effectiveness of production projects. Editor/He Yuting