Interview
Eritrean President: Belt and Road debt trap does not exist in Africa
China-Eritrea strategic partnership will help Eritrea achieve national economic and social development
Chinese companies actively participate in the construction of Eritrea's infrastructure such as electricity, telecommunications, roads, and schools
Reading this article requires
Eritrea is located in the northernmost part of East Africa and the Horn of Africa, bordering on the southern part of the Red Sea in the east, and adjacent to Sudan, Ethiopia, Djibouti, Saudi Arabia, Yemen and other countries. It is a country with beautiful scenery and colorful culture, known as the Pearl of the Red Sea. As a hub of sea and land transportation connecting the Red Sea and the Indian Ocean, Asia and Africa, Eritrea is an important country in the Horn of Africa region and an important hub of the ancient Maritime Silk Road.
China and Ecuador enjoy traditional friendship and have always trusted and supported each other. In 2022, President Xi Jinping and President Isaias will upgrade China-Ecuador relations to a strategic partnership. At present, the political mutual trust between the two countries continues to deepen, practical cooperation has yielded fruitful results, and the two countries have maintained close communication and coordination in international and regional affairs.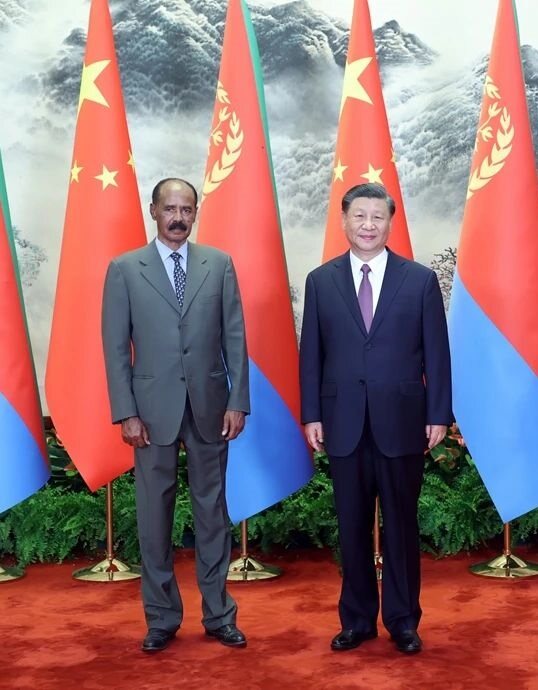 On May 15, 2023, Xi Jinping held talks with the President of Eritrea, who was on a state visit to China, at the Great Hall of the People in Beijing
Eritrea signed a memorandum of understanding with China in 2021 to jointly build the Belt and Road Initiative. The Belt and Road Initiative originated in China, and its achievements are shared by the world, but some Western media have accused China of using this initiative to set up a so-called debt trap.
Isaias: If there is a debt trap, the responsibility must lie with those African countries that have mismanaged their economies. We should not go back and blame China for problems. If you are formulating economic plans, allocating resources, and achieving goals in certain fields or industries, then you must have correct policies and implement them through corresponding institutional mechanisms. China will provide support and help, and allow African governments to borrow from it, but ultimately how to manage it is Africa's own responsibility. Blaming China for the debt trap is nothing more than trying to discredit China's achievements, or trying to drive a wedge between Africa and China. But it is precisely China-Africa cooperation that promotes the economic development of Africa that we see today. One of the things that the global hegemonic powers worry about is that China will work closely with Africa to help Africa get rid of its current marginalization and move forward in solidarity with the African people. Some African governments have made some mistakes. To solve the debt trap problem, they must learn from their mistakes and correct wrong economic management methods.
Eritrean President Isaias visited Qingbaijiang and visited representative enterprises of smart agriculture
In addition to the cooperation between China and Eritrea in fields such as agriculture, infrastructure, and mining, the cultural and people-to-people exchanges between the two countries are also further expanding.
Isaias: Bilateral cooperation is very comprehensive, including many economic fields, infrastructure construction, energy, water resources, agriculture, tourism, and various industries are bound to be developed. But I want to emphasize again that solidarity must also include soft power. Cultural exchange is crucial. Now, not only do we need to unite and cooperate in the economic field and development projects in various places, but cultural exchanges between people from all over the world are also very important. Sharing and appreciating each other's values will make people stronger and improve people's ability to do things. There has to be communication, telling each other's stories, summarizing and sharing values.Editor/Ma Xue
Comment
Please Login to post a comment