Transportation
Track laying of the Lanwu section of the Lanzhang 3-4 Line railway has begun
The project has a total length of approximately 518 kilometers and a design speed of 250 kilometers per hour
The newly built Lanzhou Zhangye Third and Fourth Railway starts from Lanzhou City, Gansu Province in the east and finally arrives in Zhangye City
Reading this article requires
Recently, the track laying construction site of the Xiahedong Grand Bridge in the Lanwu section of the newly built Lanzhou Zhangye Third and Fourth Line Railway marked the official start of the track laying construction of the Lanwu section of the Lanzhou Zhangye Third and Fourth Line Railway, as an integrated tractor laid a set of 500 meter long steel rails on the roadbed.
Lanzhang 3-4 Line Railway
The Lanzhou Zhangjiakou 34 Line railway runs through the golden section of the ancient Silk Road - the Hexi Corridor, which is an important passenger transportation channel in the Hexi Corridor Economic Belt of Gansu Province. The line starts from Lanzhou City in Gansu Province in the east, runs westward along the Zhuanglang River Valley, passes through Yongdeng County and Tianzhu County, passes through Wushaoling in Qilian Mountains, reaches Gulang County, enters Wuwei City, and finally reaches Zhangye City. The total length of the line is about 518 kilometers, with a design speed of 250 kilometers per hour, China Railway First Bureau is responsible for the construction task of laying tracks and 85 sets of turnouts on the 386.189 kilometer main line of the Lanwu section.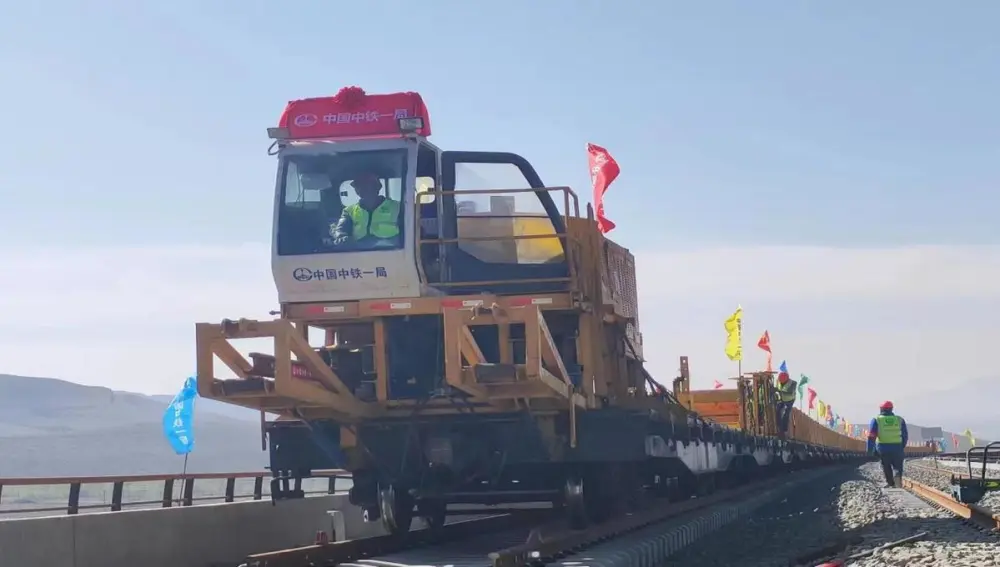 In order to fully ensure the progress of construction and production, the project construction management unit China Railway Lanzhou Bureau Group Co., Ltd. Lanzhou Engineering Construction Headquarters and China Railway First Bureau have adopted the most advanced construction method in China. In the ballasted track section, a single sleeper continuous method is used to lay a 500 meter long rail in one go, and in the long tunnel overall track bed section, a 500 meter long rail is laid in one go using the long rail traction method. For this reason, China Railway First Engineering Group Co., Ltd. has specially upgraded the tractor, which can be used for the alternate conversion of ballasted ballastless track, greatly improving the construction efficiency.
The traction vehicle of traditional track laying machines is particularly time-consuming and labor-intensive when switching between ballasted and ballastless conditions. The improved new type of long rail tractor can save 4 hours per working condition conversion and 104 hours for the entire line, equivalent to laying 18 kilometers of track, "said Li Wenhui, the person in charge of the construction unit. At the same time, in order to ensure the safe supply of construction materials ahead, the construction unit has also put into use new technologies such as the intelligent control platform for rail engineering transportation management, automatic locking small flat cars, and gantry sliding contact line power supply system, effectively improving the information level of track laying construction organization and line material transportation.
It is reported that the Lanzhou Zhangjiakou Line 3/4 Railway, which connects Lanzhou Xinjiang High speed Railway, Baotou Lanzhou High speed Railway and Yinchuan-Lanzhou High-speed Railway, is an important regional connection line of high-speed railway in the medium and long-term railway network planning, helping to improve the layout of high-speed railway network in the western region of Gansu Province, and promoting the formation of high-speed passenger corridor in Hexi Corridor of Gansu Province. After completion and operation, the distance between Lanzhou and Zhangye will be accessible within 3 hours, which is of great significance for assisting the economic and social development of the northwest region. Editor/He Yuting
Comment
Please Login to post a comment