Interconnection
DEC plans to work more closely with UAE Energy companies
The visit by Chairman Yu Peigen will take Digital's energy cooperation with Halliburton and Schlumberger to a new level
DEC and ABU Dhabi National Oil Drilling Company will further expand cooperation in the fields of drilling and production, petrochemicals and new energy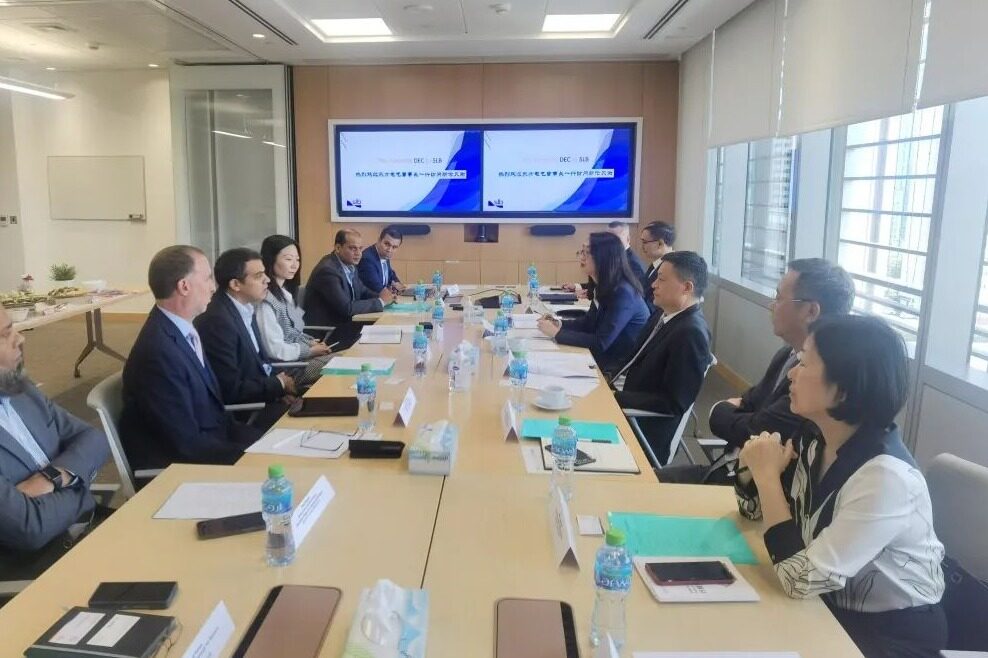 Reading this article requires
Recently, Yu Peigen, Secretary of the Party Committee and chairman of DEC, led a delegation to visit the UAE. During the visit, he visited Halliburton, Schlumberger, ABU Dhabi Future Energy Company and ABU Dhabi National Oil Drilling Company, and went to the subsidiary company of DEC's East Honghua to carry out a special investigation.
Yu Peigen led a delegation to the United Arab Emirates to conduct research on the Oriental Honghua Gold Coast Company registered in the Jebel Ali Free Trade Zone in Dubai. He emphasized that Oriental Honghua, as a high-end energy equipment manufacturing enterprise, must firmly maintain the technological advancement and quality reliability of its products. It should not only lead the technological progress of the company with the guidance of customer demand, but also actively guide customers to apply the company's new technology and new products, so as to further improve the industry awareness and reputation of the enterprise brand. Yu Peigen required Oriental Honghua to fully grasp the development opportunities, take international operation as an important development goal, actively serve the new development pattern of double cycle, and make greater contribution to the joint construction of the Belt and Road.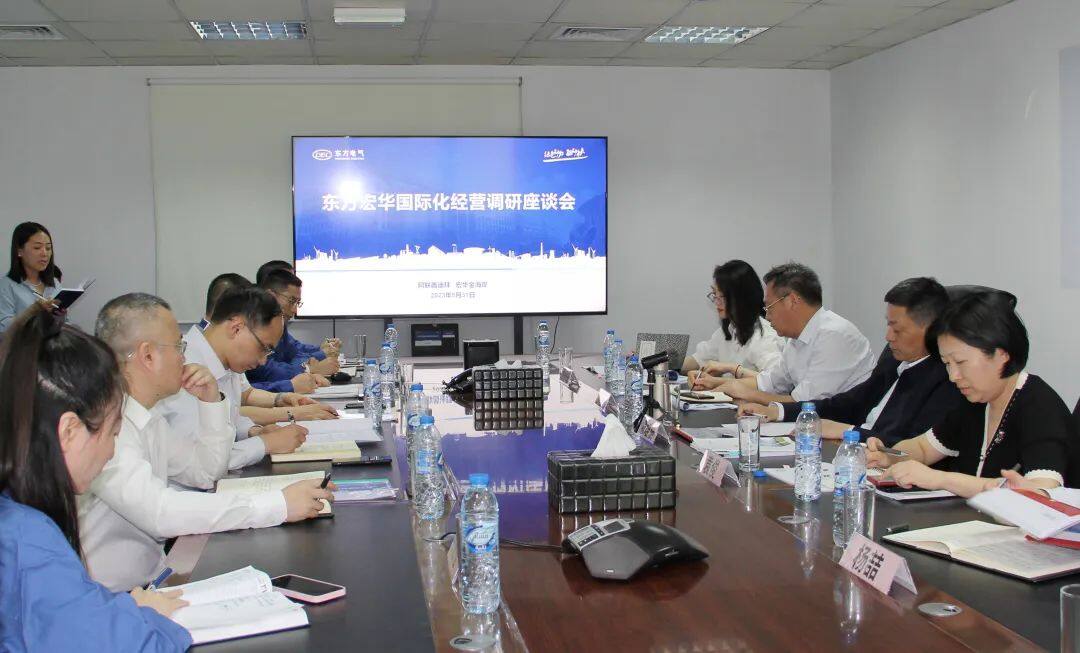 Oriental Honghua actively develops the UAE market, in 2006 registered a wholly-owned subsidiary, Macro Coast, and as the Middle East regional marketing base. By 2023, 120 sets of drilling RIGS have been sold, and the export value has reached more than $2 billion.
Yu Peigen and his delegation visited Halliburton and Schlumberger respectively in Dubai, aiming to strengthen cooperation in the field of energy, further deepen cooperation, jointly innovate solutions and contribute to the sustainable development of global energy.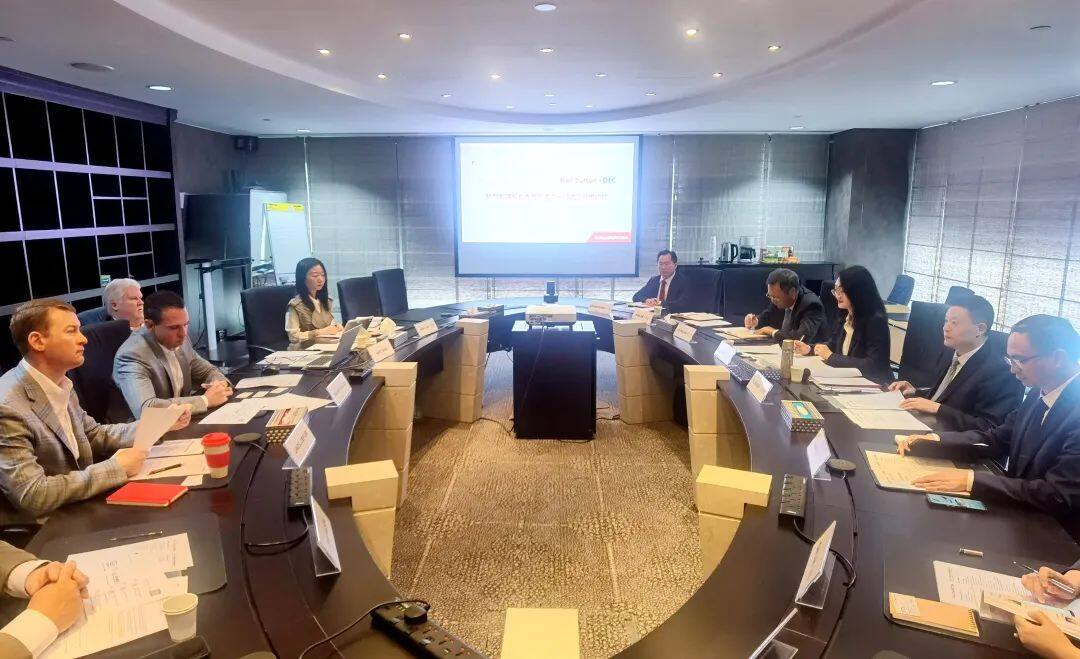 At Halliburton Eastern Hemisphere headquarters, Yu Peigen and Shannon Slocum, President of Halliburton Eastern Hemisphere, had extensive and in-depth discussions on cooperation in the field of rig service, digital technology, energy conservation and carbon reduction, carbon capture and other areas. He thanked Halliburton for its trust in DEC's drilling products and services, and said DEC is committed to developing smart drilling RIGS and striving to become a world-class drilling contractor. He hopes to further strengthen the synergy with Halliburton, enhance the technical strength and international competitiveness in the energy sector, and strive to achieve win-win cooperation in the global market.
Mr. Shannon Slocum fully recognized the achievements of the cooperation between the two parties and looked forward to developing more extensive and in-depth cooperation with DEC to jointly inject strong impetus to the sustainable development of the energy industry. Both sides agreed that this visit laid a solid foundation for further strengthening cooperation between East DEC and Halliburton.
At Schlumberger Middle East and North Africa headquarters, Yu Peppen had a positive discussion with Tarek Rizk, President of Schlumberger Middle East and North Africa, on drilling services, digital technology cooperation, and sustainable development of new energy fields such as energy conservation and carbon reduction, carbon neutrality and carbon capture. Yu Peigen hopes that on the basis of good cooperation, the two sides can further expand cooperation in the field of drilling and digital technology by relying on the advantages of Dongfang Honghua equipment and Schlumberger's oilfield service and brand advantages.
He stressed that DEC will continue to promote new energy technology innovation and application, and is willing to work with Schlumberger to contribute to the sustainable development of the energy industry. Mr. Tarek Rizk welcomed Mr. Yu Peigen's visit and expressed confidence in the cooperation between the two sides. He said Schlumberger is willing to continue to work with DEC to bring more opportunities for innovation and sustainable development in the energy industry.
The visit took DEC's collaboration with Halliburton and Schlumberger to a new level. Through in-depth cooperation and resource sharing, the two sides will jointly promote the development of energy cooperation and contribute to the prosperity and sustainable development of the industry.
Later, Yu Peigen and his delegation visited ABU Dhabi Future Energy Company and ABU Dhabi National Oil Drilling Company in ABU Dhabi.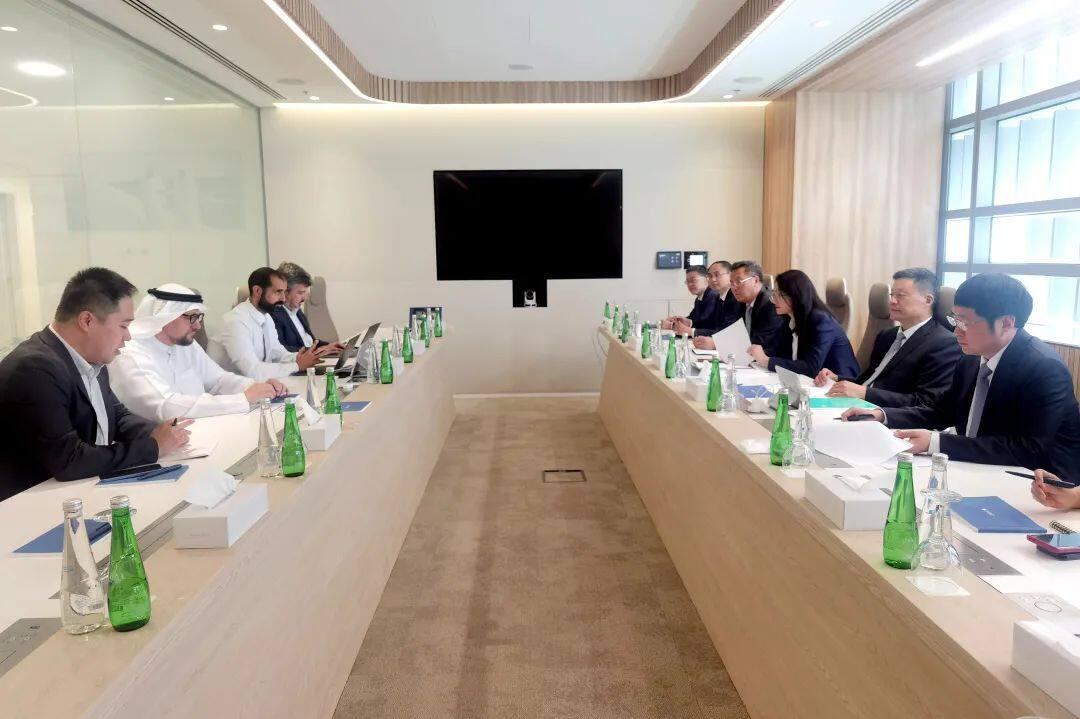 At the headquarters of ABU Dhabi Future Energy Company, Yu Peigen had an in-depth discussion with Masdar CEO Mohammed on cooperation in photovoltaic, green hydrogen and other new energy fields. Yu Peigen said that DEC regards Masdar as an important strategic partner, and the two sides have laid an excellent foundation for cooperation on photovoltaic EPC projects in Azerbaijan and Uzbekistan, and are willing to continue to consolidate and deepen bilateral cooperation in the field of new energy.
Mr. Mohamed introduced Masdar2030 new energy investment field planning targets, full of confidence in the prospects of bilateral cooperation, hope that DEC will deeply participate in and help implement the development plan. The two sides also had extensive exchanges on the implementation of ongoing projects of common interest, development of key projects and technological breakthroughs in hydrogen production by DEC.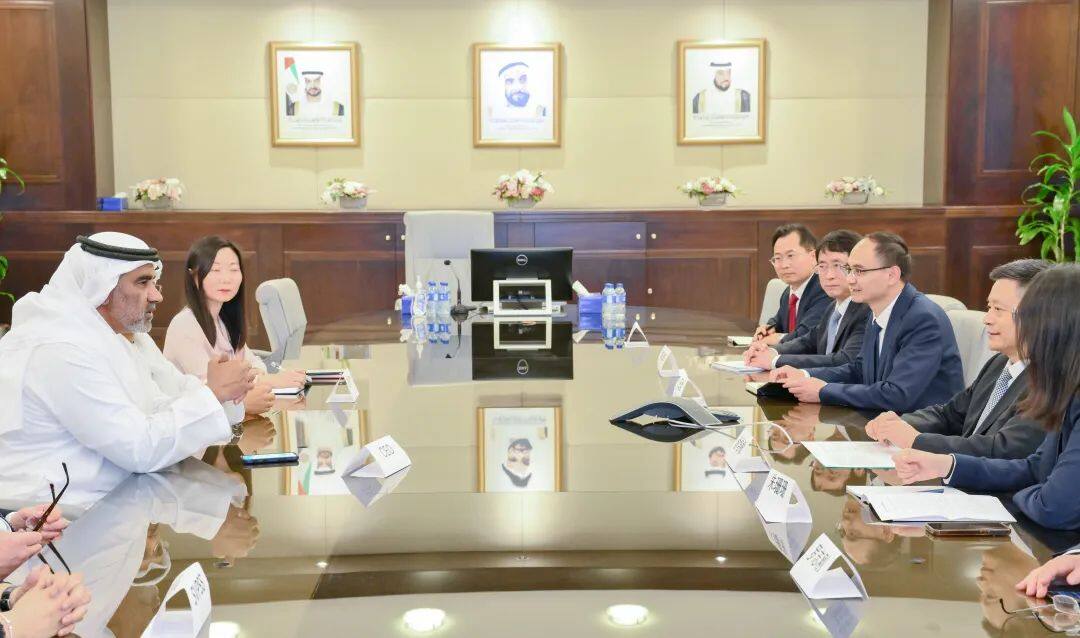 Yu Peigen met with Abdulrahman Abdulla AlSeiari, CEO of ADNOC Drilling, at the ABU Dhabi National Oil Drilling Company headquarters. During the meeting, Yu Peigen thanked ADNOC Drilling for its long-term support and affirmation of Dongfang Honghua's products and services, and expressed his willingness to further expand the cooperation in the fields of drilling and production, petrochemical and new energy based on the good cooperation in the early stage. Mr. Abdulrahman Abdulla AlSeiari highly recognized the rig products and services of Dongfang Honghua and hoped that Dongfang Honghua would continue to provide support in equipment supply and after-sales service.Editor/Ma Xue
Comment
Please Login to post a comment