Exhibition
More than a thousand exhibitors have signed up for BICES 2023
BICES 2023 will be held on September 20-23, 2023 at the China International Exhibition Center (New Hall) in Beijing
The exhibition centered on the theme of digital efficiency, green and reliable, and set up 15 theme exhibition areas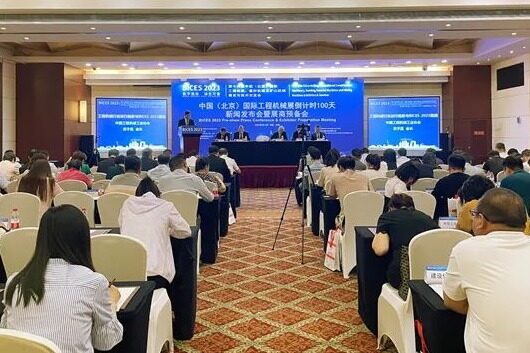 Reading this article requires
With the acceleration of stable economic policies, China's construction machinery industry has become the focus of the market. Recently, the 16th China (Beijing) International Construction Machinery, Building materials machinery and mining machinery Exhibition and Technical Exchange Conference (BICES 2023) countdown 100 days press conference and exhibitors reserve meeting was held in Beijing. At the press conference, Wu Peiguo, secretary-general of China Construction Machinery Industry Association and chairman of Beijing Tianshihuagong International Exhibition Co., LTD., officially announced that with the strong and firm support of all parties in the industry, the preparatory work for BICES 2023 has been basically ready.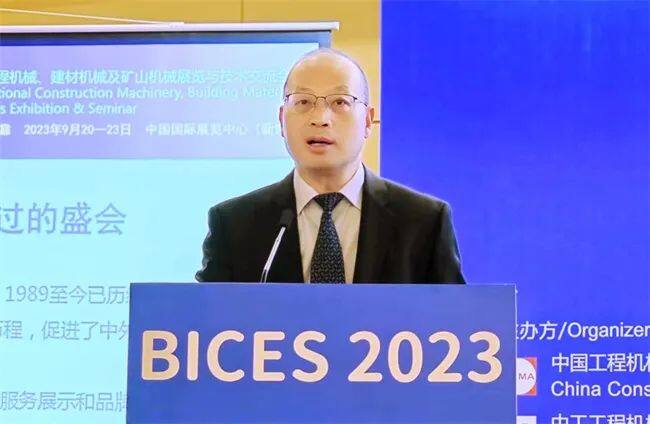 BICES 2023 will be held in Beijing China International Exhibition Center (New Hall) from September 20 to 23, 2023. This exhibition will focus on the theme of "digital, efficient, green and reliable" and set up 15 theme exhibition areas. A large number of high-end, intelligent and green construction machinery products and technologies will be displayed. Some suppliers and service providers in new areas will bring the latest service solutions for the first time. Enterprises such as certification, training, finance, leasing, aftermarket, driverless supporting services, tower cranes, lifts, etc., will also debut at the new National Exhibition. In addition, nearly 100 high-quality concurrent meetings and activities have been basically launched, domestic and foreign users and professional audience organization work has been fully launched, there will be about 200 domestic and foreign news media to carry out comprehensive, three-dimensional on-site reporting and publicity, on-site operation and service for exhibitors and visitors will have seven improvements.
This exhibition, after defeating the epidemic for three years, the construction machinery industry gathered again in Beijing. To this end, all parties in the industry signed up for the exhibition. Up to now, the number of exhibitors registered for the exhibition has exceeded 1,000, and the overall exhibition area has exceeded 150,000 square meters; Almost all of the world's top 50 construction machinery enterprises participated, and were directly organized by the corporate headquarters. Host enterprises with large areas of exhibition (according to the size of the exhibition area) are: Liugong, Sany, Lingong, Caterpillar, Zoomlion, Xugong, Komatsu, Shantui, Di Wanren, Anhui Heli, Hangfork, Railway Construction Heavy Industry, Janyang Heavy Industry, Taiyuan Heavy Industry, Dingli, Tongli Heavy Industry, Liaoning Sansan, China Railway Equipment, Hitachi Construction machinery, Masbur, Zhangjiakou Huatai, Shandong Weimeng, Xuzhou Shenax, Shanxi Jinta, JLG, Xiagong, Shandong Chu Feng, etc.
New faces of upstream and downstream enterprises in the industrial chain and supply chain continue to appear, and large-area exhibitors (according to the size of the exhibition area) are: Dazu Laser, Cummins, Isuzu, Lichuan, Tangshan Shenghang, Nanjing Iron and Steel, Bohui World, Cylon Group, Addy Precision, Henan Jiachen, Dalian Shenglong, Chengding Machinery, Shigao Ma, Deutz, Volvo Panda, Jinli Hydraulic, Suqiangg, Deutz, Volvo Panda, Hengli Hydraulic, Kaibo, Jiayou Heart, Shanghai, Valspar, Jiangsu Telong, Leica Measurement, Liming Liquid Pressure, Xuzhou Bart, Kohler, etc.
The 100-day countdown to "BICES 2023" press conference and the exhibition reserve meeting not only marked that the preparatory work for BICES 2023 was basically ready, but also marked that the work of exhibitors, users and visitors, activities and publicity began to fully enter the preparation stage. It also marks the time when the global construction machinery industry exhibition officially entered BICES 2023.
The organizer of the exhibition said: In the key time node of the transformation of new and old kinetic energy in China's construction machinery industry, BICES 2023 will become the high-quality industry exhibition with the largest number of direct participation of global construction machinery enterprises in Eurasia this year, and will bring exhibitors and users an insight into the future of the industry and promote high-quality development of the industry. Editor/Xu Shengpeng
Comment
Please Login to post a comment