Product
Liugong Crane Longsheng Jiuzi new product release
Since its establishment in 2008, Liugong Anhui has achieved leapfrog development from scratch, immature to mature
On September 26, 2020, the "2020 Liugong Crane "Dragon Life Nine Sons" New Product Release Conference" was successfully held in Bengbu, Pearl City. The 9 new products launched this time, the scientific and technical personnel visited 16 provinces, interviewed 3150 customers, investigated 34 high-frequency working conditions, collected 1776 questions and suggestions, and finally designed and manufactured them. Amazing users.
The TC250AK5-1 crane is Liugong's customized monthly artifact. For 25-ton products, it is the industry's first choice for making money, and it is extremely cost-effective. TC250AK5-1 has an ultra-long main boom of 41m. The boom is designed with a single-board head structure. With an 8.8m jib, the total length reaches 49.8m. TC250AK5-1 uses 17mm steel wire rope; the main and auxiliary winches are the same type of winch as TC250C5, with a rated pulling force of 5 tons and a maximum pulling force of 6.25 tons.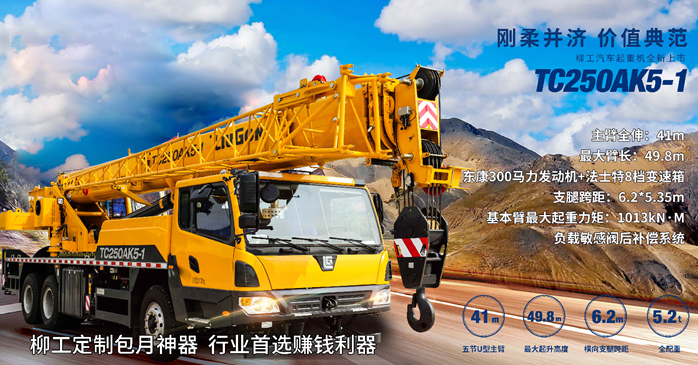 The TC250C5K is 42m long with a full extension boom, 8.8m jib, and a maximum lifting height of 50.8m. The Dongkang ISD300 engine is equipped with a Fast 9-speed gearbox to match the golden configuration of the super axle, which is a fuel-saving artifact of Liugong.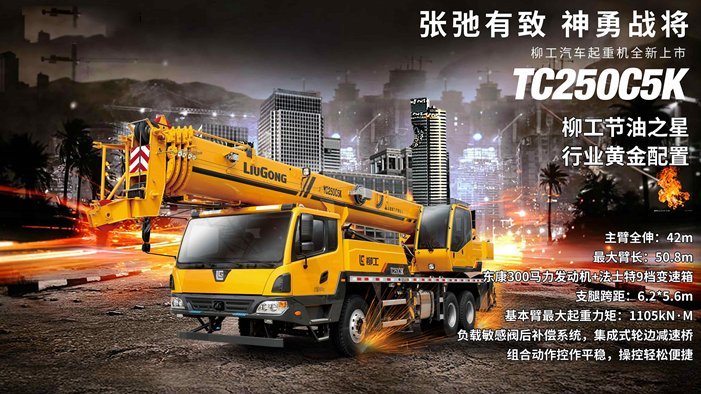 The TC250C5/TC250C5-1 main boom has a full extension of 42m, the maximum boom length is 51 meters, the maximum lifting torque is 1132kN.m, the large fuel tank has a long endurance, and the medium and long boom has better lifting performance.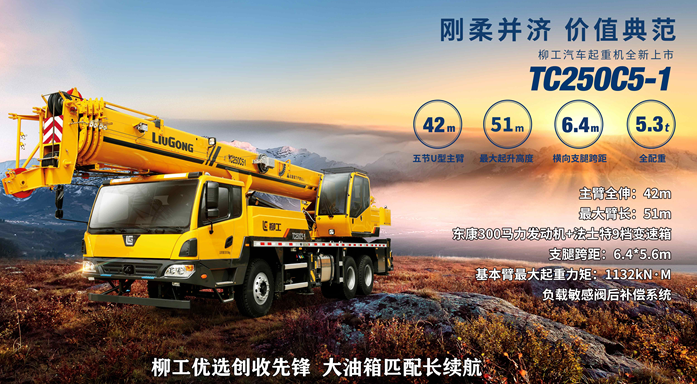 TC250C5L is Liugong's 25-ton flagship product, with a basic boom length of 11.1 meters, a full reach of 44 meters, with a 9-meter jib, a maximum lifting moment of 1212kN.m, fixed counterweight + movable counterweight 7 tons, medium The performance of the long arm exceeds 25 tons in the industry. In addition, it is equipped with two power systems, Dongkang engine + 9-speed gearbox, energy saving and consumption reduction; Shangchai engine + 12-speed gearbox, strong power, and more adaptable for mountain and plateau operations.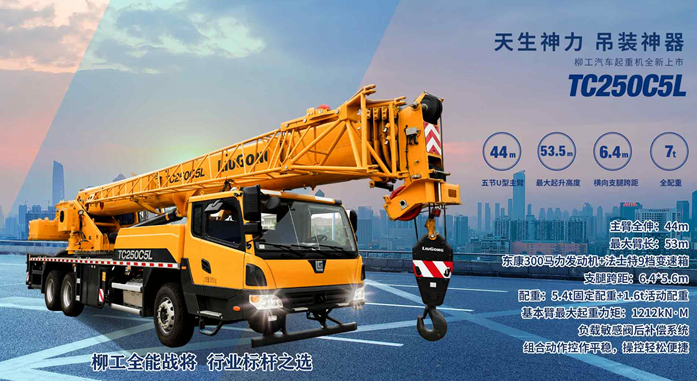 The TC300C5 has a full boom length of 44 meters, a jib of 9 meters, and a counterweight of 8.5 tons. The performance of the medium and long boom can reach 35 tons in the industry.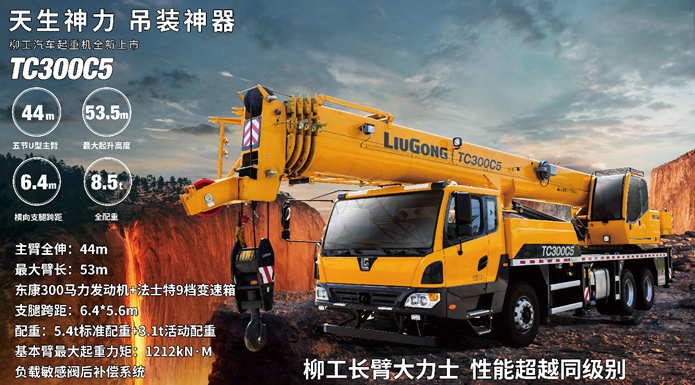 TC400C5K is a masterpiece launched after Liugong's 40 tons of Internet celebrity products. The main boom is 45 meters, equipped with a 2-stage 16-meter jib, and the lifting height reaches 61 meters. The car has a width of only 2.625 meters, a minimum turning radius of 12 meters, and mobility.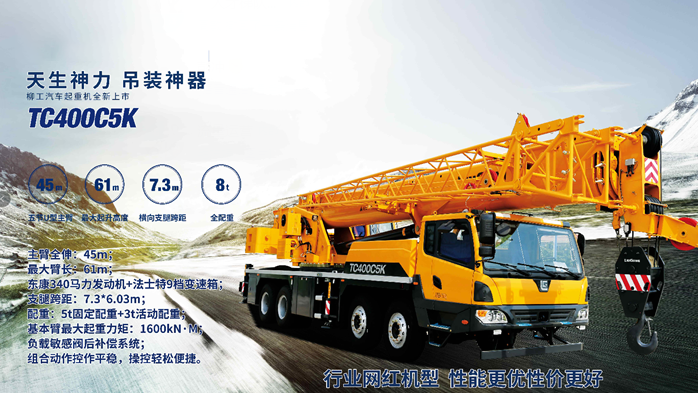 TC500C5 is a 50-ton monthly king with a very high cost performance; the main boom is 45 meters, and it is also equipped with a 2-level 16-meter jib. The whole machine has an optimized design of three hinge points, a better layout, and a large span of bipolar legs. , To improve the anti-tipping ability of the whole machine. TC500C5L is an upgraded version of Liugong's 50-ton class. The boom material is fully strengthened, the counterweight is increased, the vehicle has better stability and stronger performance.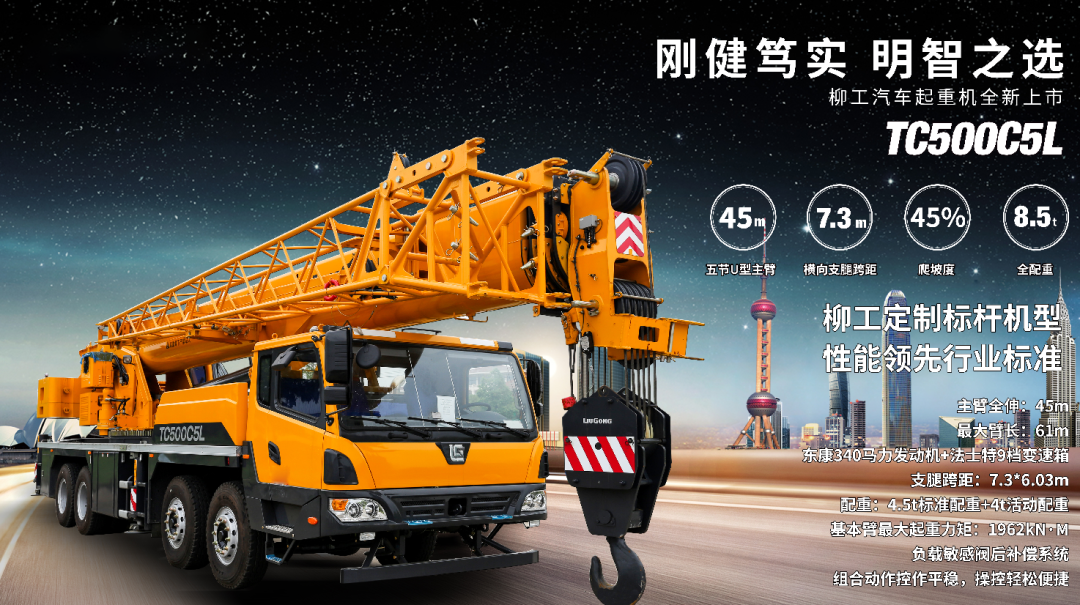 The TC600C5K main boom is 47 meters long, equipped with two 17.5 meters long jibs, a fixed counterweight of 4 tons, a 4 tons movable counterweight and a 5 tons movable counterweight, a total of 13 tons, and a double-stage outrigger span of 7.8 meters , The maximum lifting load of the full boom is 11.5 tons, the maximum operating range is 40 meters, and the lifting load is 1.1 tons, surpassing the old 70-ton products on the market.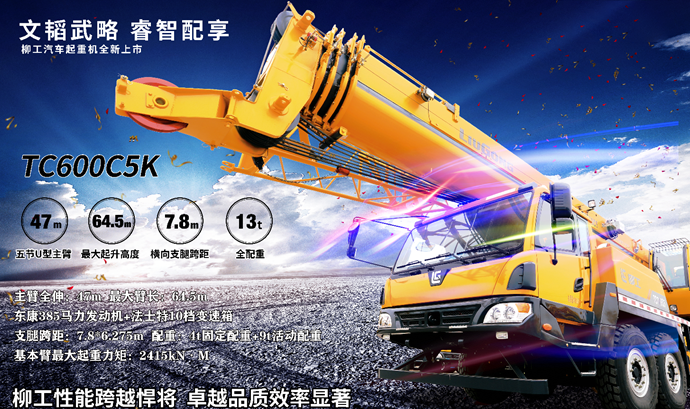 The TC700C5 has a 48-meter main boom and is equipped with two 17.5-meter long jibs, a counterweight of 16 tons, and bipolar outriggers. The five-section arm is fully extended and can be flattened, saving time and effort to beat butter.
TC700C5L is a 70-ton upgraded version of Liugong, with enhanced counterweight weight, main boom length, and boom material. With a movable counterweight of 20 tons and a main boom length of 49 meters, the lifting performance has been fully improved, reaching the performance of a 75/80 ton crane on the market, with 5 counterweight combinations and 5 counterweight carrying methods, and the performance covers 40-80 tons. It is flexible to use, and all the 20 tons of counterweight for short-distance transfer can be taken away with the car, saving money and trouble.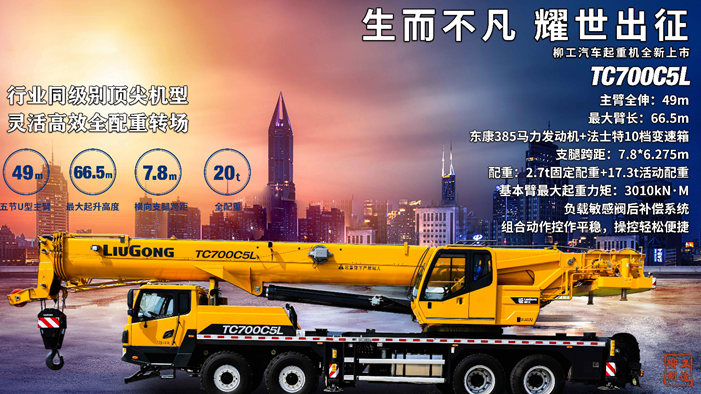 Beautiful autumn night, full of talk and laughter, in a warm atmosphere, the event ended successfully. In the future, Anhui Liugong will continue at the new starting point of the "Longsheng Nine Sons" new product launch conference, with the original intention of keeping integrity and innovation and the pursuit of "extreme working conditions and powerful equipment" to create more and better "profits for customers "Sharp Tool", while realizing its own development, it also helps customers succeed.Editor/Luo Wentao
0
Collect