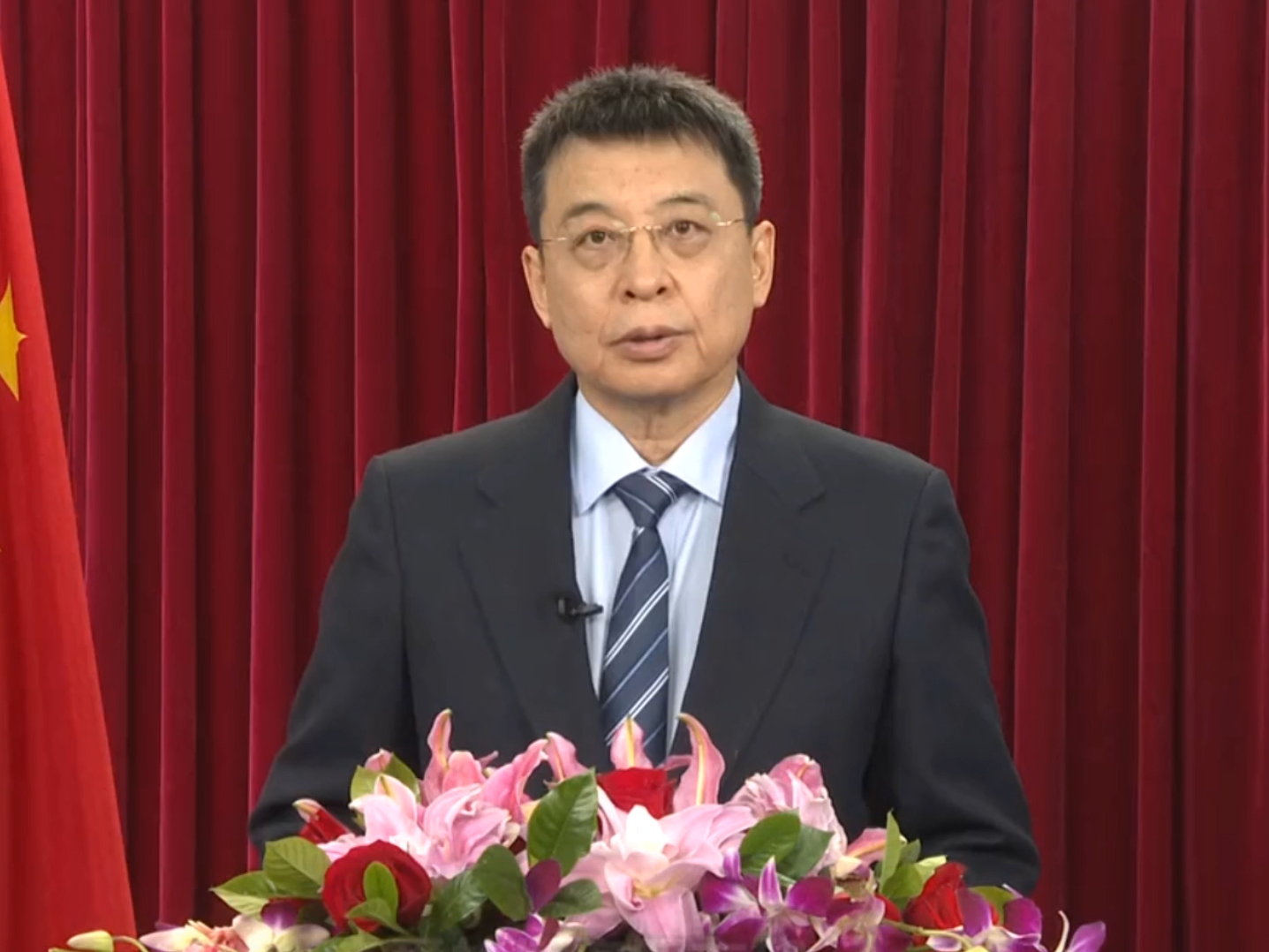 Interview
The Overseas Chinese Affairs Office has extended greetings to overseas Chinese
Pan Yue reviewed the past, looked forward to the New Year, and extended greetings to overseas Chinese
Pan Yue, head of the Overseas Chinese Affairs Office of the State Council, extended his sincere greetings and best wishes to overseas Chinese, returned overseas Chinese and their families as the Spring Festival of 2021 approaches.
Dear Overseas Chinese Friends,
Today marks the beginning of spring. On behalf of the Overseas Chinese Affairs Office of the State Council of China, I would like to extend my sincere greetings and best wishes to overseas Chinese, returned overseas Chinese and their families. I wish all of you an auspicious New Year and a happy and healthy family.
In the year 2020, a super epidemic hit, bringing personnel exchanges and economic growth of countries to a standstill, and making the international situation more complex and turbulent.
This year has been a year for China to move forward with heavy burdens. In the face of the sudden outbreak of the epidemic, China has united as one, and achieved major strategic results in fighting the epidemic. It has not only created a safe and clean land for one fifth of the world's population, but also launched emergency humanitarian action, provided anti-epidemic assistance to more than 100 countries, and pledged to make vaccines a global public good. At the same time, the epidemic has not stopped the Chinese government from making promises to its people. All 832 poverty-stricken counties have taken off their hats, and absolute poverty has gone forever. At the same time, international countercurrents have not hindered the Chinese government's commitment to the world. The 15-nation Asia-Pacific Economic Partnership Agreement and the China-EU Investment Agreement have upheld multilateralism and free trade. These achievements are not achieved overnight in the flowers pave the way, but in the thorns all over the hard work.
This year is also a year for overseas Chinese to carry a heavy load. The global epidemic has not yet emerged. The relentless virus has disrupted the lives of overseas Chinese and severely damaged the Chinese economy. Some overseas Chinese also encounter pride and prejudice, and even suffer discrimination and harm. You've had a hard time! We will never forget the selfless support and generous assistance of overseas Chinese in the early days of the epidemic in China. We will never forget the ways in which overseas Chinese have stood by the motherland and helped each other in times of difficulties after the epidemic spread around the world. We are grateful for your efforts. We honor your strength. Although we are thousands of miles away, we will always be thinking of you. We will do our best to assist all kinds of epidemic prevention materials, and set up various platforms for remote consultation and medical assistance. We will take the 30th anniversary of the promulgation of the Law on the Protection of the Rights and Interests of Returned Overseas Chinese and Their Relatives as an opportunity to implement all policies to benefit and warm overseas Chinese. We will continue to support overseas Chinese in developing Chinese language education and promoting Chinese culture. We will continue to support overseas Chinese in participating in One Belt And One Road and sharing the fruits of innovation and development.
At present, international exchanges are in a special period. In response to the epidemic, it reflects the different results of different cultural values and traditions for social governance. It has created a conflict of ideologies. The more we face differences, the more we need dialogue. At this moment, how we promote in-depth exchanges between different civilizations and how we speak clearly about the value of harmony of Chinese civilization not only has a bearing on the mutual learning between Chinese and Western civilizations, but also has a bearing on the future well-being of overseas Chinese.
Dear Overseas Chinese Friends,
Chinese President Xi Jinping said that the Chinese civilization, with a long history of more than 5,000 years, is a powerful spiritual force for the Chinese nation to strive for self-improvement and grow stronger. No matter where our compatriots live, the Chinese culture is the common DNA of the Chinese people.
History has proved that the Chinese civilization is open rather than closed, inclusive rather than exclusive, moderate rather than extreme, and peaceful rather than warlike. We pursue a common cause and transcend individual governance. We uphold the principle of revisionism and military force and oppose the belligerence of force. We do not want to impose our own values on others. We stand for harmonious coexistence and resolve confrontation and estrangement. The Chinese civilization has weathered countless vicissitudes of life and has always maintained its historical composure. Even when there are headwinds and water cuts, the trickle of dialogue among civilizations will continue to surge across perilous shoals and eventually merge into a river of spring water that coexists in diversity.
History has repeatedly proved that at every critical moment in history, overseas Chinese have made an indelible and unique contribution to their homeland and played an irreplaceable role in the exchanges between China and other countries.
History will also prove that overseas Chinese, in every foreign land and sea, will continue to do their best to build a community with a shared future for mankind.
Looking ahead to the New Year, the world situation remains volatile, but we will remain firmly committed to the goals we have set. By 2021, the Chinese government will achieve the goal of building a moderately prosperous society in all respects. The Overseas Chinese Affairs Office of the State Council will continue to uphold the principle of serving overseas Chinese, safeguard the fundamental interests of overseas Chinese, returned overseas Chinese and their relatives, and act as their mother's family.
Winter is gone, spring mountains are in sight. From this end of our hometown, we send a message of peace and care to the 60 million overseas students. Thousands of miles apart, only to meet again! Happy New Year to you in advance.
Thank you very much! (Reprinted please indicate Jiandao website www.seetao.com) Jiandao website video column editor/Gan Linping
0
Collect