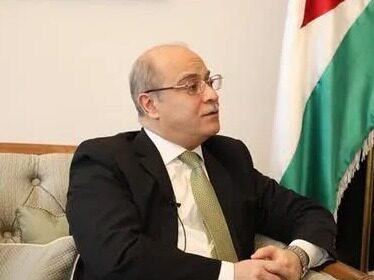 Interview
Talk to the Jordanian ambassador to China
The Jordanian ambassador to China appreciates the concept of China-Arab community with a shared future proposed by China
The blueprint for China's development in the next five or even 15 years has been drawn, and the 1.4 billion Chinese people have embarked on a new journey to fully build a modern socialist country. "China's modernization will not only mean that one fifth of the world's population will be modernized, but it will also have an important impact on all countries in the world, including Jordan," he said. Hosseini said he highly appreciates China's concept of building a China-Arab community with a shared future and sees opportunities to deepen Jordan-China cooperation in China's modernization process. In 2015, Jordan and China formally established a strategic partnership. The growing bilateral ties are a continuation of history and also show the huge potential of expanding cooperation in the future.
Huawei is hugely popular in Jordan
"We look forward to strengthening cooperation with China in all areas, especially in the economic and trade field." Hosseini said that Jordan and China have complementary advantages in a wide range of areas such as energy, mining and manufacturing, and he hopes that the two countries will continue to write more new chapters of win-win cooperation in the future.
The long history of exchanges between our two countries has produced many success stories. "The Jordanian city of Petra was an important node on the ancient Silk Road, making it one of the richest cities in the world at the time." Husseini expects that Jordan will seize the opportunity of joint development of the BBB and realize its own development. He said that Jordan has a unique geographical location at the intersection of Asia, Africa and Europe. In the fight against COVID-19, Jordan has fully played its role as a regional logistics hub, delivering vital supplies such as masks and food to Europe and neighboring countries. Jordan is working to help the region deal with refugee needs, health care and food security challenges.
"We hope more Chinese companies will pay attention to investment opportunities in Jordan." Husseini said that Jordan is at the forefront of the Arab region in the development of communication technology and many Jordanian young people and enterprises are engaged in the telecommunications industry. Chinese telecom enterprises can find excellent partners in Jordan. Huawei and other Chinese high-tech enterprises have been developing in Jordan for many years and have made important contributions to the country's information and communication infrastructure.
In addition, Huawei has also cooperated with Jordanian universities to set up an Information and Communication Technology Institute to train Jordanian information and communication technology talents. "Huawei is a leading global communications company that is widely welcomed in Jordan, and we are proud of our partnership with Huawei and look forward to further cooperation in the future." Husseini said.
The opportunity of economic digital transformation following the COVID-19 epidemic gave Hosseini a broader vision of deepening cooperation between the two countries. He said that China's digital economy has developed rapidly under the epidemic, and Jordan's digital technology has also been tested. Digital economy is expected to become a growth point for future cooperation. "Jordan has a leading online banking system in the Arab region, and China's e-commerce and mobile payments are very developed. Jordan provides an excellent platform for Chinese e-commerce and mobile payments to enter the Arab region."
Welcome Chinese film to take the scene
In the long course of history, the Chinese civilization and the Arab civilization have added radiance and beauty to each other. Hosseini believes that the humanistic factor is of special significance in the development of Jordania-China and Arabia-China relations.
Hosseini said history and culture opened the door for the two countries to get to know each other better. China's development path today is a culmination of thousands of years of civilization. Arab countries also have splendid civilizations and are fully aware of the important role of history and culture in the development of a country. He looked forward to further expanding Jordan-China cultural and people-to-people exchanges in the future.
Hosseini is pleased to see that many universities in China have opened centers of Arabic studies and Arabic language courses, which shows the importance China attaches to the Arabic language and the Arab world. He said that Chinese cultural centers and Confucius Institutes have also been set up in the Arab region to celebrate the Spring Festival and the Jordanian people are very willing to participate in the celebrations held by the Chinese cultural centers and Confucius Institutes. "There are also many Jordanian students who are learning Chinese and it is important for their life development to learn Chinese well. Jordan hopes to introduce more Chinese language learning programs and platforms."
Film cooperation was also high on Hosseini's wish list to strengthen people-to-people and cultural exchanges between the two countries. Hosseini said Chinese martial-arts and historical films were first introduced to Jordanian audiences many years ago, and now Jordan is importing a lot of Chinese dramas. "Chinese films are becoming more and more popular in Jordan." Hosseini said the Jordanian-Chinese co-production will help further raise the profile of Chinese films in Jordan. China has a well-developed film industry, while Jordan has famous film locations. Wadi Ram in southern Jordan, for example, has a unique landscape with a spectacular red desert that resembles being on Mars and has been the scene of many Mars-themed movies around the world. "We welcome Chinese films to set the scenes and promote cultural exchanges and friendship between the two peoples." (For reprint, please indicate Jiandao website www.seetao.com) Jiandao website video column editor/Linping Gan
0
Collect